I write about giving.
I scratch out stories of my family's life as we try
to break from our preoccupation with all things Sullivan.

And through praying and searching and serving and learning,
I see our family of four changing, a little.


We met new people, people like Aidan and Angela and Jeff.
We go new places, places like a food bank, River Festival, and Adriane's house.
We discuss new topics, topics involving far away places and clean water and a little girl, named
Audrey
.
But sometimes I wonder if our family's tiny acts of service really change anything at all, and then I read this:
The primary reason Jesus calls us to servanthood
is not just because other people need our service. It is because of what happens to us when we serve.
–John Ortberg,
The Life You've Always Wanted.

And that's it.
Our journey simplified.
Others may not need our service, but we need to serve. I smile, and I read it again.
Can you think of a time this week when you gained something big from serving in a small way?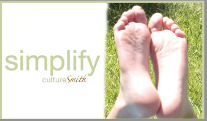 Image credit.